Dog Has A Round Bald Patch
by Sam
(New York, NY)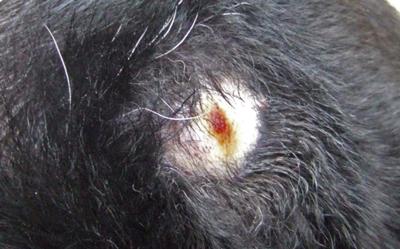 Reader Question: What Is The Cause Of This Red Spot On My Dog's Skin?


My older lab has a round bald patch on the outside of one of her hips. The patch about is about 1½ in diameter. There was, at first, a raised red spot, about ½ in. diameter, in the center of the bald patch.
The red spot is now extended vertically to a narrow ellipse about 1 in. by 1 ½ in. with amber at the edges. There is now a tiny white head pimple at the edge of the bald area (too small to see in picture.)She was nibbling furiously at this area the night before I noticed the bald spot, She licked it frequently on the first day, now pretty much ignores it (this is the third day) and is normally active.
The red spot in the center initially looked like an insect bite or sting, with a raised center, but now has flattened.
Any thoughts?
Thank you.
Sam
Vet's Answer To Cause Of Red Spot On Dog's Skin
Hi Sam,
I can't say exactly what is going on with your dog without examining her, but from your description it sounds like she could have developed an area of moist dermatitis – also known as a
hot spot
. These are localized areas of inflammation and/or infection in the skin. What usually happens is something starts a dog scratching or chewing at a particular spot on its body. The trigger could be a flea or mosquito bite, allergies, a small wound… almost anything that is irritating.
While scratching the itch makes the dog feel better, temporarily at least, it also leads to more inflammation which can be the start of a vicious cycle. In just a short period of time, dogs can bite or scratch themselves to the point where they have removed large patches of hair and have developed a significant skin infection.
Treating hot spots involves clipping hair from around the areas, cleaning and drying the skin, medications to relieve inflammation and itchiness, and except in the mildest of cases, oral antibiotics to deal with the skin infection. If hot spots are a reoccurring problem, you and your veterinarian should look for an underlying cause.
Regards,
Jennifer Coates, DVM