Canine Arthritis
Summary:
The disease canine arthritis refers to joint inflammation, but in a broad sense it is related to any damage caused to the joints. According to the American Veterinary Medical Association, osteoarthritis affects almost half of all of U.S. pets. It may be caused by trauma (injury), fractures, developmental disorders, hormonal diseases, metabolic disorders, cancerous and degenerating osteopathies (problems with the muscle and skeletal systems that help a dog move).
Arthritis in older dogs is more common due to aging, a weakened immune system and the greater possibility of accidents and development of pathological conditions. In older dogs different joints can be affected. Common symptoms of arthritis in dogs are stiffness, lameness, noticeable pain, inability to jump or climb inclined surfaces. Signs are more severe after rest or sleep. Definite diagnosis of dog arthritis is done through the completion of a detailed clinical history and examination, additional laboratory tests. X-Rays are also helpful in identifying the exact cause of the problem. Treatment is done on the basis of the diagnosis with help of therapeutics, supportive measures and sometimes surgery. Additional nutritional management and care is needed. Natural remedies are other ways to reduce symptoms and strengthen muscle and joint health.
Causes of Canine Arthritis:
Arthritis may occur at any age. Older dogs are more prone to the condition due to a weakened immune system and degrading health. Obesity or being over weight is another accompanying factor for dog arthritis. Arthritis primarily refers to inflammation of the joints, which is caused either as a primary condition or secondary condition. Secondary means that the arthritis is the result of another problem in the body.
Different pathological and non pathological factors, like trauma, degeneration, aging, cancers, developmental disorders, and nutritional deficiencies etc are some common causes of arthritis in dogs, particularly older dogs.
Also, arthritis in older dogs that involves inflammation of the joints is caused more often by pathological conditions (disease) and deficiencies. Accidents and traumas are considered secondary causative factors.
The following are some common causes of arthritis in dogs:
Traumas
Rupture and non pathological conditions of the ligaments, muscles and tendons.
Fractures of joints, bones close to joints
Congenital disorders (inherited) and anatomical disorders such as dysplasias, luxated patella and various musculoskeletal syndromes
Over weight
Less known conditions:
Metabolic disorders and nutritional deficiencies, such as hemophilia, glucosamine deficiency etc.
Joint cancer or neoplasia, Synovial cell carcinomas are most common malignant tumors which causes arthritis in older dogs
Generalized inflammatory and infectious diseases and degeneration of spinal joints
Dog Arthritis Podcast
This is a podcast from the American Veterinary Medical Association with helpful information on arthritis in dogs.
Symptoms
Dog Arthritis can be caused by any of the different aforementioned pathological and non pathological conditions, each of these conditions have specific clinical representations, but arthritis or problems with joints can be identified by some common symptoms.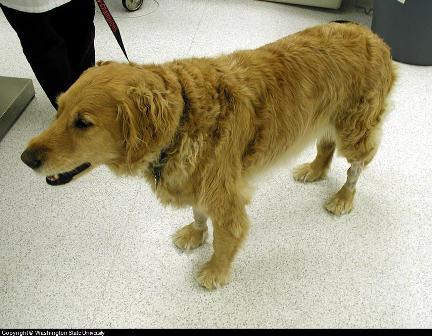 Picture Immune mediated arthritis in a Golden retriever Dog
The most common signs of arthritis in are:
Lameness or appears to have stiff or sore joints
Joint swelling
Progressive degeneration or atrophy of the joints and concerned muscles
Noticeable pain, may whimper or bark when touched
Loss of interest in exercise
Inability to jump or climb inclined places like stairs
Has a difficult time standing or sitting
Sleeping more than usual
Gain in weight
Personality change
Decreased alertness
Dog arthritis symptoms such as lameness, abnormal gait, severe pain and stress are more noticeable soon after exercise, rest or sleep.
Generalized symptoms such as illness, anorexia (appetite loss) and loss of condition are some other signs associated with systemic diseases and cancers.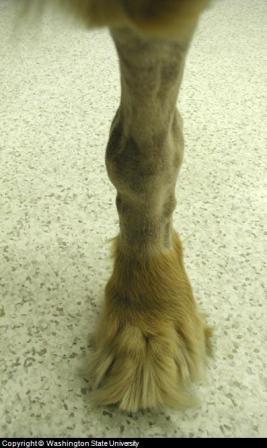 Picture Dog Arthritis
Immune mediated arthritis of carpus in a Golden Retriever Dog
Source: Washington State University
Diagnosis
Clinical history and examination is the initial step toward identification of this condition. Clinical history is more important in deciding possible cause, particularly when assessing arthritis in older dogs. Counseling regarding different musculoskeletal and nutritional diseases that occurred during the life span of patients may help in identification of the disease. Since many musculoskeletal diseases are chronic in nature, a clinical history is important to know if any previous condition in the dogs history has progressed to severe arthritis in older age.
Clinical history and examination can help, but they cannot confirm the exact cause, thus additional tests, including blood work, bone mass density tests, and a biopsy (test of tissue sample) might be needed to explore different possibilities for the problem. X-rays are also an effective tools for identifying any anatomical deformities, degenerations and growths over the joints.
Treatment of Canine Arthritis:
Pain control is often the focus of dog arthritis treatment in addition to the use of natural supplements and remedies to reduce the severity of symptoms.l
The specific dog arthritis treatment selected is dependent upon the possible underlying cause. Different inflammatory drugs (NSAIDS, aspirin), anti-rheumatics, chemotherapeutics, and steroidal preparations may be of help moreover, nutritional management is essential through supplements such as glucosamine, omega-3 fatty acids, MSM. One product that combines all of these is Synovi G3 bites.
Often, the medication of choice is buffered or coated aspirin such as Bufferin or aspirin formulated specifically for dogs (DO NOT use Tylenol or Ibuprofen unless directed by a veterinarian). In most cases, and depending on the severity of the condition, aspirin is recommended for the first two years of treatment followed by a switch to a prescription medication Cox-2 prescription medication such as Rimadyl, Metacam, Previcox or Deramax. A veterinarian will often check the liver and kidney function via a simple blood test before a dog starts on these medications. It is also common to prescribe more than one medication in addition to a Cox-2 such as Codeine, Tramadol or Gabapentin.

In additional to the prescription medications, together with or as an alternative to the Synovi G3 product, herbal supplements can also added. Herbal remedies or natural preparations such as Muscle and Joint Support and Immunity and Liver support can be used to improve joint and muscle health and as a way of reducing canine arthritis symptoms. These natural remedies can be used on a regular basis in dogs of any age to enhance muscle strength, joints, bones, tendons and ligaments, and to reduce the chance of arthritis and musculoskeletal diseases in old age.
Ask your veterinarian for the best combination of NSAIDs (aspirin), Cox-2 prescription medications and supplements are right for your dog.

Surgery is another way to treat some forms of canine arthritis, especially cases caused by non pathological factors (accidents, trauma etc.), anatomical deformities, disorders and progressive cancers.
In addition, weight reduction processes to alleviate stress on the joints, regular light exercises, massage, placement of warm compresses are some other ways necessary to manage canine arthritis. These measures help in reducing symptoms and keeping joints in function.
Ask Our Vet A Question
Have an Arthritis Related Question or Helpful Story?
Have a Question, Request or Want to Share a Story that could help others? Our editors and pet health professionals will answer 1 question per week for free!

We will do our best to get back to you quickly (it depends on how many questions we receive each day). If you do require an immediate response we suggest using this online dog veterinary service that is available now.
Other Reader Questions and Answers on Canine Arthritis Problems
Click below to see contributions from other visitors to this page...

Canine Bowed legs--Arthritis? Not rated yet
Reader Question: Can arthritis cause bowed legs? My dog has been diagnosed with cancer. She is on prednisolone and has gained a lot of weight. Her …