Dog Mange Symptoms
" The type of mange your dog is suffering from will lead to a related set of dog mange symptoms. The onset of mange is usually associated with itching, which leads to more complications such as skin infection. Localized symptoms include irritation or pruritus (skin infection), alopecia (loss of hair), scale formation, and hardening of the skin. In conditions which appear in different areas of a dog's body, a dog may suffer fever, emaciation (weakness & gets thin), stress, loss of condition and even death if left untreated . Treatment involves the use of an over the counter lime-sulfur dip or via the use of an Ivermectin injection for 2 - 4 weeks, depending upon the severity of the condition."
Dog mange symptoms are caused by an infestation of skin burrowing mites. Mites are referred to as a parasite, since they feed off their host, which in this case is a dog. Depending on the mite causing the problem, it may or may not be seen with the naked eye in the dog's hair. Itching is the primary symptom of dog mange. There are several different forms of mange and each one has a different set of symptoms.
In this podcast from the AVMA, board-certified veterinary dermatologist Dr. Marcia Schwassmann, describes the different types of mange and related symptoms.
Click here to learn more about home mange treatment.
General Dog Mange Symptoms:
In general, the symptoms of mange in dogs vary from mild to severe itching (pruritus) and, irritation where the mange mite has burrowed into the skin. Later on, self trauma (injury due to a dog itching and scratching itself), the life cycle of the mites that are burrowing into the skin, and the severity of the infesting species of mite leads to other complications such as alopecia (hair loss), wounds and pyoderma (puss filled under skin).
These complications may include a generalized disease condition that leads to secondary isolated (local) or generalized (spread over a dog's body) microbial infections on the skin. Symptoms of these secondary infections can include fever, inflammation, irritation, lymphadenopathy (Swollen & Enlarged Lymph nodes, diseased lymph nodes), emaciation, lethargy and extended alopecia (hair loss).
Pictures of Dog Mange Symptoms on Face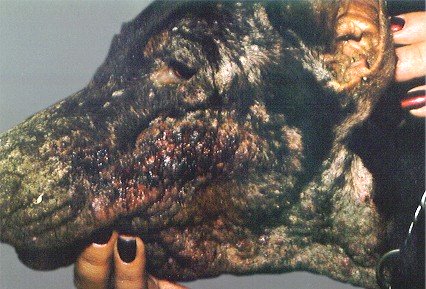 Types of Mange in Dogs
Sarcoptic Scabies: This form of scabies (which is another name for mange) causes many dogs to scratch and itch themselves (causing self trauma or injury). Repeated "self injury" results in papular eruptions (Red bumps on the skin surrounded by small, firm, and central crust) and thick crusts on the skin. Other symptoms include lymphadenopathy (Swollen lymph nodes & diseased lymphatic system), emaciation (loss of fat, your dog gets thin, weakness), and acting tired (lethargy). The lesions initially appear on the ears, chest, legs, elbows & belly region (ventral) of the abdomen.

If left untreated, the condition continues to worsen. For chronic or severe cases, the generalized form of disease leads to seborrhea (secretions mixed with dirt & ruptured blister), thickening of skin and fold formation and severe lymphadenopathy. The dog may feel emaciated, severely sick and in pain. Dogs with chronic cases that are suffering the symptoms just described may be affected to such a level that they may even die.

Pictures of Dog Mange - Sarcoptic Scabies Dog Mange Symptoms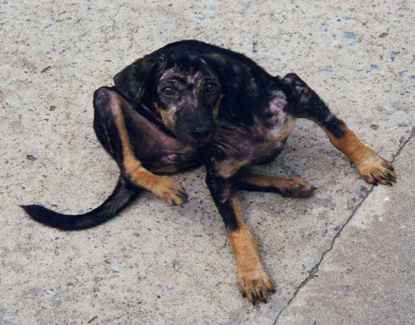 Ododectic mange: this form of mange is associated with mange on the ear and upper head region. Symptoms include continual ear scratching & head shake.

Red mange: (Canine Demodicosis, demodectic canine mange) is seen in dogs with an impaired or underdeveloped immune system. Symptoms vary from none to severe itching and hair loss, both of which will vary in severity based on the level of immune response and the size of the mite population on the dog. Symptoms will appear to be diffusing which means that they are located in various areas of the dog. If a dog is under stress, suffering from malnutrition or has an impaired immune system, then the mites will reproduce more rapidly.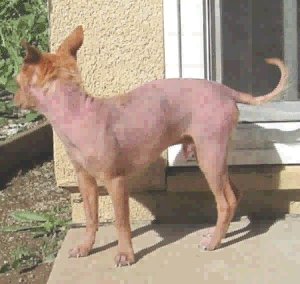 Picture Dog Mange
Cheyletiellosis (walking dandruff): is another common form of mange, which is usually characterized by a dorsal (on the back) distribution of redness and skin scaling with patchy hair loss. Severe infestation leads to hairless patches of skin and itching which ranges from no symptoms to severe. The severity of itching is dependent upon the the number of times the dog is bathed with a quality shampoo, or the overall hygienic level.
Trombiculiasis: is another form of mange, common in range dogs. Mild to severe irritation and skin rashes are the only symptoms that are usually noticed. Severe dermatitis (inflammation of skin) can occur in untreated cases.
Dog Mange Symptoms in Young Dogs
Dogs of less then 2 years of age are more susceptible to mange. Symptoms range from small patchy hair loss to severe inflammation. Other symptoms can include focal alopecia (loss of hair), hyper pigmentation (increased red coloration around patches of skin), and itching. If your dog has the common or generalized form of the condition, associated problems are secondary microbial infection from itching the skin. Dogs experience systemic illness, lethargy and fever if the condition worsens, including the appearance of pyoderma (Puss producing skin infection) or cellulitis (bacterial diffused infection of skin tissues).
Puppy mange that is localized or limited to one area usually resolves itself without treatment. Mange which is generalized requires treatment with a prescription Amitraz dip or treatment with the medications ivermectin and moxidectin. Skin health can be improved when natural remedies are used for supportive care such as Skin and Coat Tonic.
Dog Mange Treatments in Adult Dogs
Your veterinarian will probably recommend an approach which addresses the symptoms of mange. Treatment of scabies or mange will include an over the counter lime-sulfur dip, that can be obtained from your veterinarian or directly from a company/product such as Naturasil for Pet Mange. The Naturasil product is convenient since it can be combined with your dog's regular shampoo. A dog's own shampoo will make the treatment seem as familiar as their normal bath. Be sure to wear latex gloves and apply in the bathtub since it can be messy. Use in a well ventilated room since many types of dips give off fumes.
An alternative approach is a prescription drug called Ivermectin. It involves a single injection repeated for 2 – 4 weeks, depending upon the severity of infestation. Melbemycin is recommended for those dogs breeds which are Ivermectin – sensitive, as no adverse effects have been reported. They are administered as an injection which is repeated after 1 week. Another drug selamectin is prescribed for scabies, red mange & ododectic mange to be applied topically. Multi vitamins are also recommended for more severe conditions to help the skin heal.
Mange Treatment Side Effects:
Dips are usually recommended to be used in an open environment. It is also recommended that dogs be checked for any skin allergies or hypersensitivity. Ivermectin may have side effects. Dog Breeds as Collies, Shetland Sheepdogs, Old English Sheepdogs, Australian Collies, and their cross breeds are sensitive to this drug. Coma, Respiratory collapse, Ataxia (difficulty in movement) & tremors can occur, if high doses are administered.

Scabies, Mange and Humans

Its important to act fast when you see any dog many symptoms. Mange and scabies mites can move from the dog to your family. Scabies mites can infect humans, with symptoms such as red itchy red papular areas appearing along the belt line. Mange mites can also infest human skin with typical symptoms including skin rash, itch and raised papular areas along the arms, stomach area and buttocks.
Scabies mites that infest dogs can only live on humans for 3 weeks. To speed healing in people, an over the counter scabies product can be used on dogs such as Naturasil for Scabies can be helpful. Once the dogs treatment is complete, human mange skin problems should not reappear.
Dog mange mites can inhabit the home as well as the dog, creating a risk that they will reinfest a dog after treatment, causing the dog mange symptoms to return. To ensure this doesn't happen, vacuum the dogs environment thoroughly and wash the dogs belongings in hot water with a liquid detergent. Also, clean the dogs environment with a disinfectant formulated to kill parasites such as Benzarid.
Have A Mange Related Question or Helpful Story?
Have a Question, Request or Want to Share a Story that could help others? Our editors and pet health professionals will answer 1 question per week for free!

We will do our best to get back to you quickly (it depends on how many questions we receive each day). If you do require an immediate response we suggest using this online dog veterinary service that is available now.
Other Visitor Questions and Suggestions on Dog Mange
Click below to see contributions from other visitors to this page...

References for Dog Mange Symptoms:
J. Brahmas., et al. Veterinary Parasitology, (Delhi Publishers, India 2004)
---