Dog Scabies Treatment
"Dog scabies treatment or mange treatment, is necessary to treat this highly contagious disease. It is found all around world and caused by an infestation of small host specific mites. Mites transmit the disease from dog to dog through direct contact. Indirect modes of transmission are less frequent, but possible. Pruritus (itch), alopecia (loss of hair), thickening of the skin and generalized lesions are signs of dog scabies. Dog scabies treatment may involve two different approaches, topical or localized application of preparations applied to the lesions, while systemic treatment is done by using anti–parasitic drugs. Supportive therapy can help in hastening the recovery rate. The prevention of dog scabies is only possible if the dog and their environment is sprayed with a mild anti- parasitic preparation. "
Dog Scabies Treatment: General Approach
Dog scabies can be treated, either topically or systemically. Supportive supplementation, especially with minerals in most cases are considered essential parts of the prescription. Some dogs may appear sensitized towards several anti–parasitic drugs, and may show a severe drug reaction, if even a single dose of drugs, like Ivermectin or Selamectin are administered. Thus, additional tests for sensitivity towards any specific anti–parasitic drug may be required prior to treatment.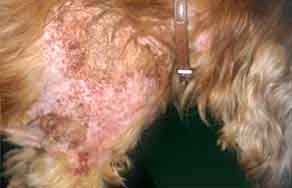 Dog Scabies Symptoms and Skin Ulceration Due to Scratching and Licking
Source: Royal Veterinary Academy
A treatment plan may be topical or systemic, but it should be managed for all dogs that came in contact with the affected dog. If any single dog in the population is left untreated, it can cause a recurrence of dog scabies.
Pictures of Dog Scabies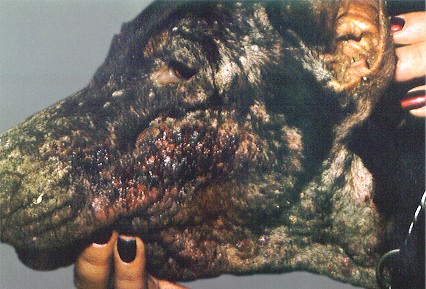 Demodectic Mange (Scabies Picture)
This podcast from the American Veterinary Medical Association provides a helpful overview of mange and scabies in dogs.
Topical Dog Scabies Treatment:
Topically, lesions should be cleaned to remove any debris and dust. The dog should have its hair clipped. Antiseptics and anti–acaricidial drugs should be applied to the lesions after a bath, preferably with a medicated shampoo.
Lime–Sulfur dips such as the over the counter product Naturasil are highly recommended in dogs, especially young puppies. This type of product should be used in 5 day intervals. Dips are considered the most effective topical option in puppies. The Naturasil product in particular can be mixed with a dog's own shampoo, making the treatment appear to be more familiar to the dog being treated.
Topical preparations of amitraz, can be used as an alternate option, but the efficacy (effectiveness) of its use is not as reliable as the lime-sulfur approach.
Systemic Dog Scabies Treatment:
Macrocyclic lactones, i.e. selamectin and ivermectin are preferred; as systemic options for dog scabies treatment. Systemic refers to medications that effect a dogs entire body. Selamectin is considered the safest option of the macrocyclic lactones; which can be administered 6mg/Kg BW, orally in single doses and repeated in one-month in intervals. Selamecitn has been proven to be safe in ivermectin–sensitized dogs.
Other endectocidial drugs like ivermectin and moxidectin are prescription medications available for dog scabies treatment. Two doses of ivermectin are effective, either orally or by subcutaneous injections are administered two weeks apart. There are side effects in some breeds, such as collies. Hypersensitivity in some dogs makes it relatively risky. Results have been reported to be superior to those achieved with selamectin.
Prevention of Dog Scabies
It is important to not just treat the dog, but treat a dog's environment as well. Mites can Our customers have asked us for a product to remove mange mites on floors, on bedding, chairs etc. A cleaner that contains the chemical benzalkonium chloride, the active ingredient in products such as Benzarid will be effective in killing the mites effectively, without the side effects of other types of cleaning products. Natural approaches have not proven to be effective.
Dog Scabies mites can burrow into human skin, however they will quickly die and not reproduce, therefore it is not considered a serious problem. A different type of mite causes scabies in humans.
There is a homeopathic spray available that when applied directly to a dog can help discourage mites from re-establishing themselves under a dog's skin. Manage Mites Spray can be conveniently be sprayed on a dog's coat before being exposed to mites outdoors or if your dog may be near other dogs. Natural ingredients include Agrimony (supports skin health), Wormwood (supports the skin), Neem (natural repellent) and Lemongrass (for cleansing).

Precautions:
A dog's Heartworm status should be evaluated before administering systemic anti-parasitic drugs as killing an existing worm infection could put stress on a dogs system. Ivermectin is highly contraindicated (risky) in collies and collie crosses.
Have A Scabies Related Question or Helpful Story?
Have a Question, Request or Want to Share a Story that could help others? Our editors and pet health professionals will answer 1 question per week for free!

We will do our best to get back to you quickly (it depends on how many questions we receive each day). If you do require an immediate response we suggest using this online dog veterinary service that is available now.
What Other Readers Have Said Scabies in Dogs
Click below to see contributions from other visitors to this page...

Canine Scabies Treatment Not rated yet
Reader Question: How Do I Treat Scabies? I have two 5 months pit bulls and they both have it, but Noel the oldest has it real bad. I really want to …
Treating Dog Scabies Not rated yet
My dog was exposed 2 weeks ago to scabies.Is there anything I can do now to prevent her from getting it? My Grandaughter bought a puppy and found out …
References:
J. Pharst., et al. Veterinary Clinician Manual, California Press. 1997)
---