Canine Heart Disease
" Canine heart disease refers to a group of abnormalities related to cardiac features of the body. Heart disease in dogs can be either congenital (present at birth), genetic or any acquired anatomical/physiological disorder, which develops with age, nutrition and other systemic problems. It is usually characterized by cough, lethargy, intolerance, loss of appetite, irregular respiration and fainting. Different tests and procedures such as blood profiles, electrocardiography, echocardiography and X-Rays can reveal the the exact cause of dog heart disease. Treatment involves both medical and surgical approaches along with supportive therapies and critical care. Some types of dog heart problems require no therapy, while others, such as canine heart failure always requires treatment."
Canine Heart Disease Resources:
The Dog Health Handbook provides many resources to understand heart disease in dogs. Here are some quick links to those resources:
Causes of Canine Heart Disease:
Dog heart disease is a group of abnormalities, related to cardiac or primary organs of the circulatory system. Dogs of any age, breed or sex can be affected, but according to diagnostic researchers, it is more common in older dogs that have acquired cardiac abnormalities due to some type of infectious, nutritionally deficient or cardiac degenerative causes.
Dog heart anatomy consists of 4 chambers and 4 values. The heart pumps blood through the dogs circulatory system to the cells, tissues and organs. The blood carries needed oxygen, nutrients, immune substances, chemicals and hormones to the body to help it function correctly. The arteries and arterioles are part of the systemic circulatory system which carries blood away from the heart and the veins and venules are part of the pulmonary circulatory system which carries blood to the heart.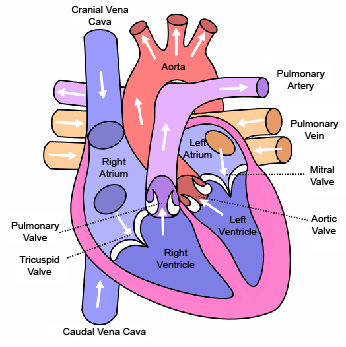 .
Dog Heart Anatomy
Heart disease in dogs can be caused by a variety of reasons, depending upon the underlying etiology (causes of a disease). Some dogs are born with cardiac muscle diseases, and are genetically prone to certain cardiac and/or whole circulatory system problems. On the other hand, in most cases dogs acquire heart disease with age, infectious or non infectious causes or due to any other systemic problems in the body.
Cardiac infections, parasitic infestations, nutritional disorders and obesity are considered the most common non – congenital reasons for the occurrence of canine heart disease.
Canine heart disease refers to all dog heart problems.
Canine heart failure (HF) refers to a condition where the heart no longer meets the needs of the body. The most common cause of canine heart failure is weakness in either the right or left ventricle. Said another way the heart isn't pumping enough blood. This can also occur when the dog heart is pumping correctly, but some type of disease in the body is causing the tissue to require more blood. This happens in cases of canine hyperthyroidism and anemia.
Canine congestive heart failure (CHF) refers to some type of increase in blood pressure as measured from the left ventricle and fluid accumulation (canine edema). If the dog blood pressure is greater than the ability the dogs heart to move the blood, then fluid builds up, which is referred to as canine heart congestion.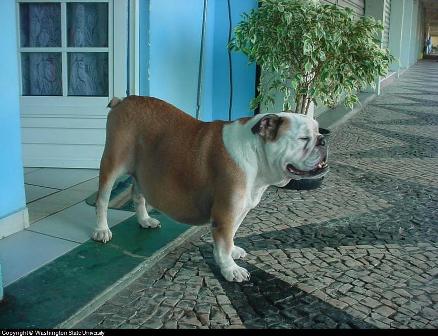 Picture Canine Congestive Heart Failure
Fluid buildup in abdomen
Types of Canine Heart Disease:
Different forms of cardiac abnormalities have been reported in dogs, which are usually related with either the degeneration of cardiac features, valvular blockage, loss of cardiac strength, cardiac myopathies and failure of heart function due to congestion or one-way pressure. In dogs, these cardiac abnormalities include:
These have been identified as most commonly occurring canine heart diseases, which may be of any kind, i.e. congenital or acquired in nature.
Dog Breeds with Heart Problems
There are several dog breeds with heart problems which means that have a higher incidence of acquired canine heart disease. These breeds and specific diseases are as follows:
Dog Breeds with above average incidence of Canine Heart Disease
| | |
| --- | --- |
| Airedale Terrier | Chronic Mitral Valve Insufficiency (CMVI) |
| Boston Terrier | Heart base tumor and pericardial effusion |
| Bouvier de Flanders | Dilated cardiomyopathy (DCM) |
| Boxer | Arrhythmogenic right ventricular cardiomyopathy (ARVC), bacterial endocarditis, heart base tumor and pericardial effusion |
| Bull Mastiff | DCM |
| Cavalier King Charles Spaniel | CMVI |
| Cocker Spaniel | DCM , CMVI |
| Dachshund | CMVI |
| Doberman Pinscher | DCM |
| German Shepherd | DCM, Hypertrophic cardiomyopathy (HCM), hemangiosarcoma and pericardial effusion, |
| German Short Haired Pointer | HCM |
| Golden Retriever | DCM, hemangiosarcoma and pericardial effusion |
| Great Dane | DCM |
| Great Pyrenees | DCM |
| Irish Wolfhound | DCM |
| Labrador Retriever | DCM |
| Miniature Schnauzer | Sick sinus syndrome, CMVI |
| Newfoundland | DCM |
| Old English Sheepdog | DCM |
| Rhodesian Ridgeback | DCM |
| Rottweiler | HCM |
| Saluki | DCM |
| Small breed dogs | CMVI |
| Springer spaniel | Atrial standstill |
| Weimaraner | HCM (hypertrophic cardiomyopathy) |
Canine Heart Disease Symptoms:
A dog should be suspected for possible heart disease or any abnormality related to cardiac features if it exhibits typical cardiovascular system symptoms. Most commonly identified dog heart disease symptoms include:
cough
lethargy
intolerance to exercise/running/jumping
irregular breathing
frequent fainting
loss of appetite
At a clinic, along with observing these typical symptoms, a dog is also examined in terms of its physiological history (health history) and acuteness (severity) or chronicity (when did it happen) of the condition. Heart pumping function is thoroughly examined through dog heart rate and strength evaluation.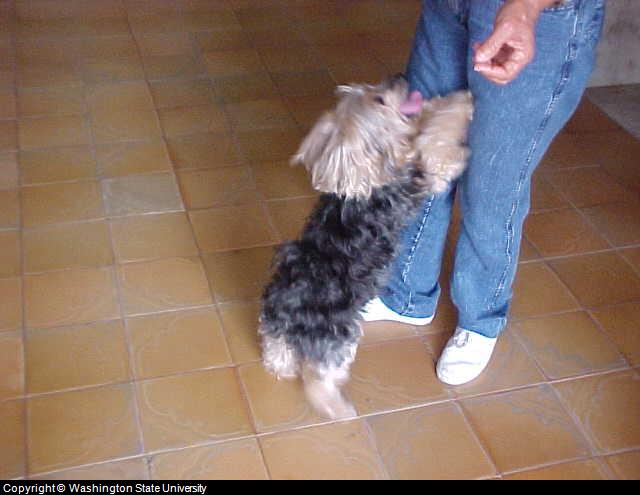 Picture Canine Heart Disease - Dog showing no visible symptoms, Bradycardia (low heart rate) detected during checkup
This helps to identify possible causes of canine heart disease and, in order to confirm the condition/a clinical hypothesis, different laboratory procedures are done. A confirmatory diagnosis is always based upon the information gathered in a clinical history, examination and laboratory results.
Diagnosis of Canine Heart Disease:
Clinical history and examination is the initial step towards a confirmatory diagnosis, but these should never be considered as the only confirmatory tools. A clinical history and thorough examination is only helpful in identifying a possible dog heart disease; clinical procedures can never confirm the underlying exact cause and heart condition. Timely confirmation is always an important factor towards proper and effective treatment.
Different laboratory procedures such as blood tests, electrocardiography, echocardiography, radiography and catheterization is used in some cases.
The veterinarian will listen to the heart for signs of dog heart problems such as a dog heart murmur, heart arrhythmia canine (irregular heart beat), and other abnormalities.
Treatment of Canine Heart Disease:
Different dog heart treatment plans, involving both medical and surgical approaches to heal different dog heart problems are practiced. Selection of the appropriate treatment plan is dependent upon the confirmatory diagnosis and overall health status of the patient. While it is difficult to completely cure dog heart disease, doctors seek to come as close as possible by using combinations of therapies.
Medical approaches involve specific and supportive healing of the underlying cause, which can be done through therapeutics and cardiac tonics. Patient medical care in dogs with heart disease is mostly done through alterations in the different physiological mechanisms of the cardiovascular system, through which a nearly normal attitude of cardiac muscle functioning is achieved. Along with this approach, underlying cause such as infection, parasitic infestations and any other confirmed cause is treated accordingly.
On the other hand, various cardiac muscle abnormalities and inefficiencies can be treated surgically. This mode of treatment is done in extremely critical patients, mostly to save lives. Through this approach, anatomical features are brought to nearly normal function and any underlying causes are removed through surgery.
Dogs with heart disease require critical care and support throughout their life. This is done with strict nutritional management and the administration of supportive tonics and therapeutics. Natural heart tonics such as Heart and Circulation Tonic and cardiovascular supportive supplements can surely help to improve the strength of the cardiac muscles and over all circulatory system health.
Have A Canine Heart Disease Question or Helpful Story?
Have a Question, Request or Want to Share a Story that could help others? Our editors and pet health professionals will answer 1 question each week for free!

We will do our best to get back to you quickly (it depends on how many questions we receive each day). If you do require an immediate response we suggest using this online dog veterinary service that is available now.
What Other Visitors Have Asked About Heart Disease in Dogs
Click below to see contributions from other visitors to this page...

Husky puppy with unusual echo finding

Hello, my female husky (15 months old) has had a heart murmur from young puppy hood (I bought her from a pet farm in Singapore - don't do the same if you …
References:
Merck Veterinary Manual (Merck & Co.)
Washington State University School of Veterinary Medicine
Veterinary Clinical Cardiology
---