Tapeworms in Dogs
" Tapeworms in dogs are flat forms that have a segmented body that makes the worm look like a tape measure. Each segment of the tapeworm is potentially infective as it possesses its own reproductive and excretory (relating to, or used in excretion) system. Segments can pass through the feces and infect healthy dogs when they ingests these segments. Different types of canine tapeworms have been identified and are distributed throughout the world. Species of different genus, i.e. Dipylidium, Taenia, Echinococcus, Mesocestoides and Diphyllobothrium can infest dogs. Dog Tape worms are also called cestodes; which require an intermediate host to complete its lifecycle, before they can infest a dog. Dog Tapeworm symptoms are generally itching, irritation, abdominal pain and weight loss. Tapeworms look like rice like particles, which can be spotted around the anus and in the feces. The presence of tape worms can also be confirmed with examination of the feces under a microscope. Treatment can be effectively completed using anti–helmintics (deworming medications)."
Overview of Tapeworms in Dogs:
There are several types of tapeworms that can cause gastrointestinal(relating to the stomach and intestines) disturbances in dogs. Most dogs contract a tapeworm infection by swallowing a flea. As a tapeworm grows inside a dog's body (up to 28 inches), parts break off and pass through the body via the feces.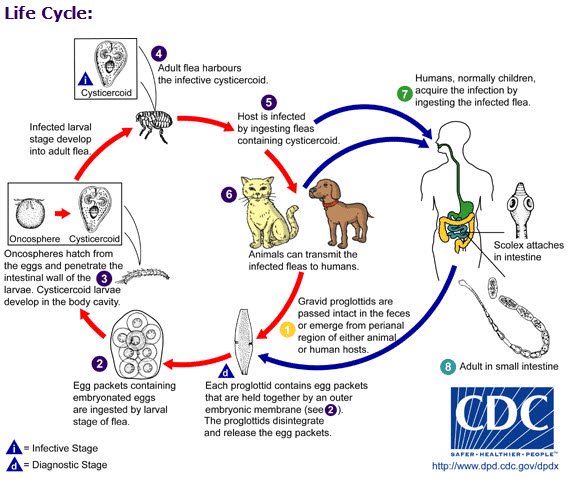 Types of Canine Tapeworms
Dipylidium; Diplydium caninum is the most common type of tapeworm found in dogs. This type occurs in almost all regions of the world. They are transmitted by fleas and lice; which occur commonly on the dog's body. Head or "Strobila", buds to form a series of segments, as the main body part of a tapeworm and body ranges 15 –70 cm in size (5.9 inches to 28 inches).

Picture of Tapeworm
Taenia; T. pisiformis, T. hydategina are two of the most common species found in domesticated dogs. Some other species of Taenia can infest wild dogs, but are usually absent in companion dogs, since they aren't commonly in places where they can pick up worms. They can range up to 60 cm in size (23 inches).
Echinococcus; E. granulosus and E. multilocularis are two species; which can infest both domesticated and wild dogs. E. multilocularis is only seen in hunting dogs, as it is more common in wild dogs. The Size of these dogs varies, depending upon age, breed, sex and immunity.
Mesocestoides; This is a relatively less researched type of tapeworm, which can infest companion dogs. The complete life cycle is not fully known yet, but arthropods (flies) are suspected for transmitting these species if are ingested or they bite. They range from 7 – 15 cm (2.7" - 5.9")in size and has 3 – 5 suckers at the head or "strobila".
Diphyllobothrium; The Diphyllobothrium species can infest dogs, cats and humans too. They are transmitted by eating raw fish, foods containing fishmeal or parts of fish, as it occurs in almost all organs and cavities of fish.

Diagnosing Types of Tapeworms in Dogs:
A tapeworm infestation in dogs can be identified by the presence of rice like particles, attached around the skin, and in the feces. These particles are actually segments of tapeworms detached from the body of an adult, released in the feces.
In order to confirm specific types of tapeworm in dogs, laboratory procedures are required. Isolating rice like segments and observation under a microscope can reveal defined features of the tapeworm.
Treating Different Types of Tapeworms in Dogs:
Tapeworms do not cause serious types of infections or complications in dogs. They can cause itching and irritation at the anus, with abdominal pain, vomiting and occasionally weight loss if the infestation causes a heavy population of worms. Treatment can be completed by applying therapies and prevention by anti–helmintics (deworming medications).
Praziquantel, such as Trade Winds Praziquantel Canine Tape Worm Tabs, is the drug of choice for treating almost all types of tapeworms in dogs. It can be administered orally at a dose rate of 7.5 mg/Kg B.W. for two consecutive days and is available over the counter (follow directions on the medication package, ask your veterinarian). Other anti–helmintics like fenbendazole, Mebendazole, Dicholorphene can also be used, but only with the prescription of a veterinarian.
Diarrhea, vomiting, and abdominal pain are symptoms associated with large infestations. When this is the case, a treatment plan will include rehydration, use of anti-diarrheal and anti-emetic drugs.
Tapeworms in Dogs Prevention
Preventive measures such as reduced doses of anti–helmintics can be used every 3–4 months, in areas that are potentially highly and susceptible to tapeworms. There is also a homeopathic remedy available, Parasite Dr. Capsules , that contains natural ingredients associated with the natural expulsion of worms and other parasites.
Tapeworms and Humans
Humans can contract tapeworms by swallowing an infected flea. Like in dogs, the worms can be spotted in the feces and around the anus. Treatment is effective with Praziquantel orally or with an injection.
Have a Canine Tapeworm Question for our Editors?
Have a Question, Request or Want to Share a Story that could help others? Our editors and pet health professionals will answer 1 question per week for free!

Please be sure to include important information such as breed, age, medications and medical history.

If you need an immediate reply, we'd suggest using an online veterinary service that can provide immediate answers to your questions.
Review Questions From Other Visitors
Click below to see contributions from other visitors to this page...

Cause of White Worms in Dog Stool Not rated yet
Our Bassador has what looks like small white worms or maggots in his dog stools. They are approximately one CM long and stretch and contract. There …
References:
Center for Disease Control
---