Hookworm in Dogs
"Hookworm in dogs is one of the most common causes of anemia (lowers ability of blood to carry oxygen to the body). Hoowworms have hook like structures on the head, which attaches to the intestinal walls, resulting into hemorrhages (bleeding). Different species such as Ancylostoma caninum, Ancylostoma braziliense and Uncinaria stenocephala can cause infection in dogs, but A. caninum is the primary cause. In addition to anemia,dog hookworm symptoms include lethargy, anorexia (avoidance of food), emaciation and weakness. Fatality rates are higher in puppies. The flotation of fresh feces can reveal the presence of hookworm eggs. Treatment can be effectively completed with the use of anti–helmintics (worming medications). Management and care can help to prevent hookworms infestations in dogs."
Different types of Hookworm in Dogs:
Though different species of hookworms can cause diseased conditions in dogs, in different geographies,A. caninum remains the primary cause. A. caninum is 12–15 mm in length, while other species A. Braziliense and U. stenocephala are relatively smaller in size. U. Stenocephala is found only in cooler regions.


Dog Hookworm Picture
Life Cycle of Hookworm in Dogs:
Thin walled eggs are usually passed through the feces of infected dogs, which hatch in warm and moist environments after 24–72 Hours. Transmission is usually made through contaminated food, in the house or even through milk in case the of A. caninum. A. Braziliense and A. caninum. Dog Hookworms can also invade the skin and then use it as a pathway for entering the body. Respiratory signs may also be seen as a result of a skin invasion. In the intestines, hookworm larvae can attach themselves to the mucosa (intestinal lining), by using its' hook like teeth. This causes hemorrhages (bleeding), which leads to clinical signs and symptoms.
The life cycle starts when females lay 5000–8000 eggs a day which are passed through the feces.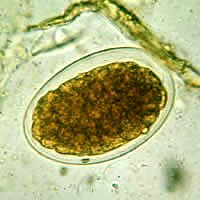 Picture of Dog Hookworm Egg as seen by Veterinarian in Feces
(Source: CDC.gov)
Signs and Symptoms of Hookorm in Dogs:
In the intestine, soon after attachment to the intestinal mucosa, acute anemia is noticed, especially in puppies. Hookworm infestation, particularly in puppies, is usually fatal, however puppies that recover may develop some level immunity with future occurences being less severe.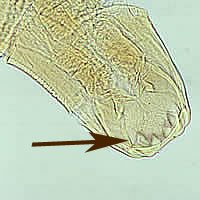 Picture of Hookworm in Dogs Mouth Hooks
General signs other than anemia are anorexia, lethargy, cough, emaciation and progressive emaciation.
Diagnosis of Hook Worms in Dogs:
Along with a clinical examination, a feces flotation technique should be carried out in a laboratory in order to confirm the presence of small, oval, thin-shelled eggs ranging between 60–70 um in size. Sudden death with from anemia is confirmed by the presence of hookworm eggs. Young puppies age 1–2 weeks should be treated as an emergency and preventive measures should be immediately carried out.
Treatment of Hookworms in Dogs:
Treatment plans should include a broad spectrum Anti–helmintic.Different anti–helmintics, such as Fenbendazole (50 mg/Kg B.W Oral), Mebendazole (80-150 mg Oral for 3–5 days), Dicholrvos (27–35 mg/Kg B.W Oral) and Pyrantel (5 mg/Kg B.W Oral), are considered to be the most effective approach for treating hookworms.
Pyrantel, Fendendazole and Mebendazole should address particularly A. caninum infestation. Dicholrvos and Febendazole should preferably treat A. braziliense and U. stenocephala.
In severe and acute anemia, a blood transfusion may be required, which should be continued until the "Packed Cell Volume (PCV)" of the dog's blood becomes normal.
Hookworm in dogs, in terms of prevention, requires preventive doses of anti–helmintics as indicated by the diagnosis and clinical representation observed by a veterinarian. Hygienic measures effectively reduce about 70% of the chance of transmission, as they interrupt the life cycle of hookworms.
Heartgard Plus and Sentinel are two products provided monthly that protect against hookworm and other parasites such as heartworm and whipworm. Sentinel also protects against fleas.
Hookworm in People
Hookworms in dogs can spread to humans or from pet to pet. Humans and children can "catch" hookworm from dog feces. It enters through the skin and is a condition known as "larva migrans". Symptoms include skin itch and pain. If eggs are ingested, such as if they are picked up in a playground or sandbox and move into the mouth, it could cause intestinal bleeding and pain in the abdomen.
To prevent this problem, be sure to wash hands after playing outdoors and do not walk in bare feet in areas where cats and dogs defecate.
Have a Canine Hookworm Related Question or Helpful Story?
Have a Question, Request or Want to Share a Story that could help others? Our editors and pet health professionals will answer 1 question per week for free!

We will do our best to get back to you quickly (it depends on how many questions we receive each day). If you do require an immediate response we suggest using this online dog veterinary service that is available now.
What Other Visitors Have Said
Click below to see contributions from other visitors to this page...

Dog with Blood Diarrhea and Tapeworms Not rated yet
I am not sure even what happened. My dog all along has been acting normally. Then out of nowhere I come home to his dog kennel and he had diarrhea and …
References:
The Merck Veterinary Manual
---